My DBF and I spent Mother's Day having a nice ham dinner at my mom's house along with my nephew, one of my sisters, and her fiance. I also was given some really pretty flowers in a cute gazebo planter I can hang up. I had to transplant them and put them on my front porch since my apartment is lacking badly on the sunlight department. Hopefully, when we move, we'll have a place that lets in lots of sunlight and not just small bits of light.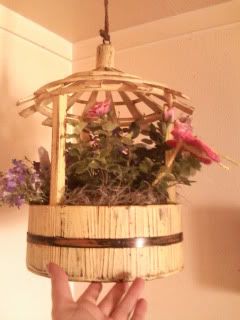 Then on Monday, Heather and I went down to Ft. Collins to go do a registry at Babies R Us. Just before we hit the exit, starting about 2 miles back, we came across someone in a small white honda who was doing 55 while the speed limit on I-25 is 75. I would have gone around him except we risked missing our exit and I didn't feel like back tracking to get where we were going. I tried honking at the driver, but they ignored me, even as they passed a speed limit sign. No sooner than we got to our exit and left the highway, a trucker came up behind the car and quickly had to change lanes to avoid plowing the jerk in the honda. Most truckers around here usually do about 65 since they can't brake as easily as the smaller vehicles. If the left hand lane hadn't been open like it was, the lil white honda would have been roadkill for sure. Anyways, we spent over 2 hours scanning items and browsing Babies R Us. They have a huge selection in Ft Collins and we figured this way family and friends who want to buy something for the baby can go to a store that's usually found just about everywhere in the country. I scanned over 400 items into the registry so yes I was VERY scanner happy. And we don't even know what we are having yet. We plan to go back after we do the ultrasound and do the boy or girl only items.
We learned while we were there you can look up my registry online via my name, my DBF's name, his parents' names, or even by my mom's name. You can also order over the phone at the Ft. Collins store, pay by credit card, and have in store delivery to save on shipping. Then you just give me or my DBF a call and let us know we have something to pick up and we go get it. Or, you can have the item sent to us, or to you, and then you can bring it with you to the baby shower. Unfortunately, not everyone I would love to see will be able to make it to the shower, but I hope to see as many as I can, even if I have to wait until after the baby is born to visit.
Awesome side note about Babies R Us: all the baby products they carry are BPA FREE. So you don't have to worry about figuring out which bottles are safe and which ones need to get with the times and put our babies' health first.
While we were in Ft. Collins, we stopped at a lil burger shop called 'Five Guys' and found out they have really good burgers and the cajun fries are awesome snack food. Speaking of which, now I'm getting hungry... We went down to the nearby mall after that, and did a bunch of window shopping. Heather picked up a flute set and a serving set she and her fiance had been wanting to buy at Things Remembered. They have a lot of really nice stuff there. We searched the whole mall, and could not find the pedicure place she was talking about so we figure either they moved locations or went out of business. On our way out, we picked up an Orange Julius for each of us, and it was long overdue. There isn't one in Cheyenne, and they really should put one here. Until today, I hadn't had one since I moved here to Wyoming. I miss having one nearby. And my DBF was disappointed when we picked him up from work that we didn't bring him one. I didn't know he loved them too until he said something so next time I go I will have to bring him one too. Coming home went without a hitch, which was nice.
Heather asked my DBF if he would watch her son while we went to the mall in Cheyenne to get our pedicure, and he said he would. No sooner than we get to the house to pick him up and he realizes he's going to spend some time with my DBF, he was all excited about it and couldn't wait to leave. It was really cute.
We went to the mall and got our pedicure which felt great after a day of being on your feet. We'll have to go again sometime. Anyway, here's a pic of my big toe after the lady got done painting a pretty flower on it.
Last Friday, we went to go see Gran Torino with Clint Eastwood in it. It was nice to get out and have some 'us' time since we hadn't been able to do anything in a while. We enjoyed the movie, got some good laughs out of it too. The ending is bittersweet and from what I read of the reviews that others wrote on yahoo, it's one of those movies that you either like or you don't. But if you are at all a fan of Clint Eastwood, you should at least watch it and see if it is a movie you will enjoy. My sisters and I watched a lot of his movies growing up so maybe I am already inclined into liking his movies due to my upbringing. I'll let you decide if it's one you like.
We spent this past weekend at my mom's house since she needed my DBF's help going to Lowe's to pick up materials for putting in a dog run and remodeling the downstairs bathroom. She's hoping to get most or all of it done before she takes her trip to Germany on June 19th to see my sister and her girls. She's really looking forward to this trip and I think she needs one. She's overdue on the vacation department as it is anyways.
My mom's bday is this Friday too so I will have to see if we can pick up a lil something for her. I dunno what yet, I'll have to wait and see.
My doctor checkup is on Friday which I am sure will be fine, I haven't had any complications or issues (except the hormonal mood swings as of late) so all should be fine. But I could live without the mood swings.... they haven't been any fun for either of us...
And just 4 more weeks until we get to do the ultrasound! Yay!